The Art of Gaming:
Museum Meltdown
Tobias Bernstrup and Palle Torsson (in conversation with Micz Flor)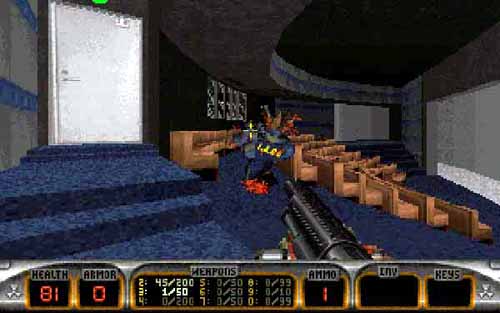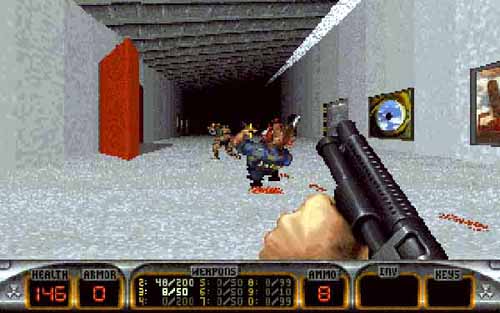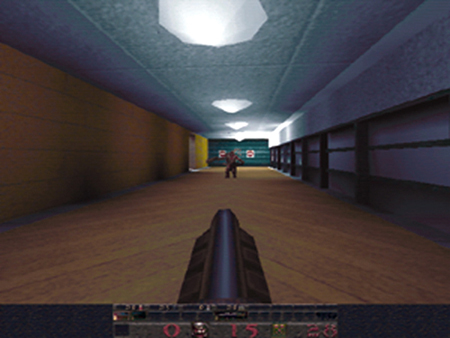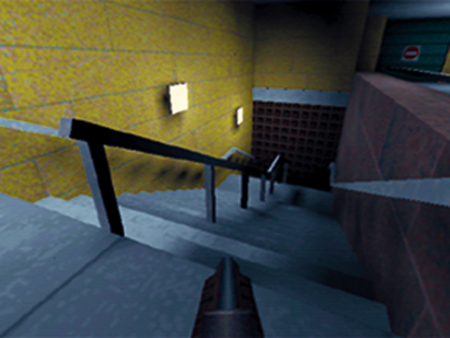 The Swedish artists Tobias Bernstrup and Palle Torsson have worked extensively with game environments such as Duke Nuke'em and most recently Half-Life as part of their ongoing project Museum Meltdown. Duke Nuke'em is a first person shoot-up game, meaning that the player views the 3D environment within which s/he is moving from the point of view as the character.

The TV set or monitor creates the illusion of perceiving the same view as the actor, in the case of Duke Nuke'em as a blond GI army hero with a rather limited but charming sense of humour.

Over the past few years, tools which allow to create your own environments within which you can move have gained a cultural currency. Similar to projects presented in SYNREAL (see the levels on this CD-ROM), using a level editor for the game Unreal, many creative minds have dedicated their skills to generating alternative levels for well established games . Such additional levels even entered competitions and have received awards. Mostly those levels have been generated according to the rules implicit in the main goal of the game: the shoot-up part.

In Museum Meltdown, Tobias Bernstrup and Palle Torsson moved away from this restricting framework and not only managed to bring the gaming environments into the art system, more interestingly, they designed their levels according to the art environment (museum, gallery) within which their work was based.


SYNWORLD spoke to the artists and wanted to know what happens when the art crowd has to shoot its way through attacking lizzards and boars with sawn-off shot guns in order to indulge in the art on the virtual walls.

SYNWORLD: In your project Museum Meltdown you are building virtual worlds within the framework of a first-person shoot-up game. How does that work and what does the 'visitor' of your work experience?

Bernstrup and Torsson:Some time ago the game Doom was cracked by hackers to establish the possibility of editing levels and making your own as well as changing the existing levels. Today this has established itself as an entirely new market. Delivering new levels and missions or selling separate editing tools with games have become common practice. Those editors for environment work similar to any CAD programme.
With such editors we reconstruct the museums within which we are showing based on floor plans. We also generate new textures for walls, include diffuse lighting, adequate floors, the existing artworks and other details, which have been taken from video and photo documentation.
At the moment we are working on a project that will be shown at the Modern Museum in Stockholm (May 1999). The work is based on the new game Half-Life

SYNWORLD: Virtuality has long entered the art system. Virtual galleries, online portofolios, digital imagery have infiltrated the art scene vocabulary. In your work you are entering yet another field: computer games. How does that relate to your understanding of contemporary art and popular culture?

Bernstrup and Torsson: The impact and experience of playing a computer game is often a lot stronger than visiting a regular exhibition, gallery or reading articles about art. Visiting virtual exhibitions can be even more boring and meaningless. For that reason we got interested in using the context of the computer game as an aestethic contrast, as well as an additional mode of experience. Additionally, ethical and artistic issues have their own agenda within the field of game technology.

SYNWORLD: The old saying 'Beauty is in the eye of the beholder' is clearly being pushed further in your work. What is the role of the 'beholder' when it comes to Museum Meltdown?

Bernstrup and Torsson: The beholder lives in a phenomenology of violence and destruction. Means of interaction is very limited. Wherever the beholder looks his/her gaze is ready to destroy.

SYNWORLD: Where would you place your work in the triangle of games, digital art and MTV?

Bernstrup and Torsson: Even though the work is based on computer technology we do not necessarily perceive it as digital art. We consider our work being based within computer technology, the implicating being that it is different from both, video games and digital art. Therefore we believe it being limiting to use only one of these terms to describe our work.


Still the context of the art world is important for the art to work. As we know, MTV today has lost its meaning. Today it is only representing commercial mainstream culture without any edge. Not many things can survive the process of MTV.

SYNWORLD: The entertainment industries have been feeding of art over the past decades. Where does this development go?

Bernstrup and Torsson: It will probably continue...
Install the Museum Meltdown Levels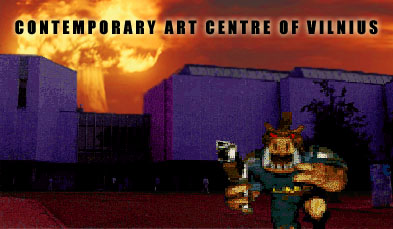 Vilnius.zip size: 2159 kb
A reconstruction of the Contemporary Centre of Vilnius
Singleplayer level for Duke Nukem3D Includes new Tiles.art files and Vilnius.map file.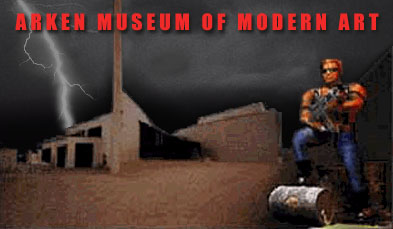 Ark.zip size: 1700 kb
A reconstruction of Arken, Museum of Modern Art, Copenhagen. Singleplayer level for Duke Nukem3D Includes new Tiles.art files and Arken.map file.


Notice: To be able to play the Moderna map you need the registered full version of Quake1. Unzip file and put the Moderna.bsp into your Quake/Id/Maps folder. Start Quake, launch the map by typing: map moderna in the Quake console.
For playing the Duke Nukem map-files you will need the registered full version of Duke Nukem3D on your PC harddrive. Unzip files and put them into your Duke3D folder. Start the Setup.exe, Select userlevel and Launch game.

Museum Meltdown is project by Palle Torsson & Tobias Bernstrup 1996-1999,